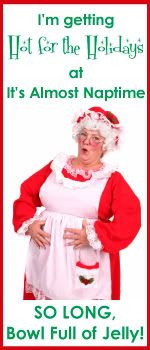 (I am posting this early because I have a devotion coming out tomorrow.)
I think y'all need to fire me.
Really. Someone else deserves to be Frau Fit Friday. Because my scaley heels have not been seen in tennis shoes in. Um. A while.
It's not even for lack of want. I have WANTED to go. We've just been busy, and okay so I could be there right now BUT most of the time, I have had to choose between things like, go work out or organize my pantry. My time has just been super limited as of late.
I have no idea what I weigh. Last week at the pedi's, I weighed 133. With clothes and shoes on and a Diet Coke in my belly. So I think that is really 132, which means I have lost 5 pounds. Which is not fabulous but not too shabby. Mainly, my clothes fit better and I don't look pregnant anymore. Yippee! But I still have 6 to go and only 21 days till Christmas (doesn't that tree to the <-- left right there freak you out?!? 21 days!!) Next week. NEXT WEEK I am gonna get back on track. Ok. What about you?
Powered by... Mister Linky's Magical Widgets.